Your focal point might be anything, be an art work at the living room, a headboard at your bedroom, a sofa at your living room or a hood at the kitchen. Choose it particularly so that it draws the required attention. In this room you can see that the lighting work above the fireplace gives it a focal point attracting all the attention and balancing everything else.
1. Remember that when you create focal points, there should be slight lines of difference so that it is clear from one another. When you walk from one room to another, it should feel that you are drawn between them. The best spot is to keep them across the entrance so that one can view it directly.
2. You may have a certain accessory or collectible which might be of certain interest of you or have emotional attachments to it, that doesn't mean you hang on to it. Remove the pieces that doesn't add charm to you room even if they mean something special to you.
3. Know what would fit into your room before purchasing it. A certain piece might look amazing at the store but would not bring in the required aura of beauty to your space. Always know what looks good according to scale and proportion. Like in this room this oversize sunburst frame takes up almost all of the space along with the sand dollars. Though they might have looked really chaotic if placed separately but now they complement each other.
4. Lighting is very much required for a room as it adds value and speciality to it. Try adding certain layers of lighting like in this room with the backsplash, artwork and cabinet interiors are lit with varied colours yet they bring in royalty. Designers bring in life, intrigue and variety to any space with the help of lighting. When a room has everything lit up evenly, no focal point is created thus bringing no interest to it. Pick a point and let it be your master stroke.
5. Bold is the new fashion trend of the season. Your space should match with your personality. Try bringing life to a certain corner of the room with your statement addition. The more you think out of the box, the more you would enlighten the space. Try touching some dramatic changes to everything around you. Like in this room you can see the library style bookshelf, the beautiful and bright oversize chandelier and the antique ottoman seats and all unexpected looks in a normal living room but the view and charisma it spreads is just too amazing.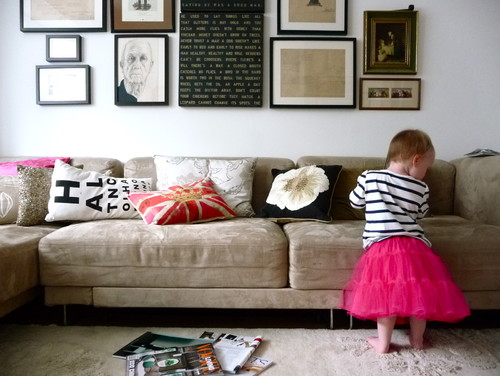 6. When it comes to creativity, do not follow any rule book. Ignore all the principles of normal home décor ideas. Though having a rule book gives you a certain edge of start but do not follow it by heart. Let the space talk the type of person you are and also bring in a sense of satisfaction every time you enter. A room which is overly designed doesn't appeal much but something different and unique like this haphazard arrangement of pillow in this room brings in plenty of style yet maintains its uniqueness.
Designing a room could be a very hectic task especially when you do not have prior experience in it but with the above basic tips you can easily become a pro, especially when it comes to creating your own space as you know what you like and what would go best with your style sense.